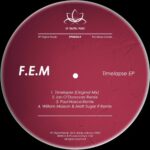 Title: Timelapse
Label: EP Digital Music
Release date: 04/11/2020 (Beatport exclusive) / 18/11/2020 (All platforms)
Listen to Timelapse EP
'Timelapse' is a hymn to resurrection and transcendence!
Composed during the 3 months of lockdown, this track takes its roots on the wood of abandoned dancefloors.
A deep return to the origins was necessary for F.E.M. and he gave himself the mission to create a piece representing all his influences (Detroit, Laurent Garnier, Rodriguez Jr) and the mixed emotions he felt during this out-of-time moment.
We wanted to make on this EP, a musical meeting between several universes. And what an honor to have Ian O'Donovan and Paul Nazca as remixers! Innovative, inspired, passionate, authentic!
Ian works with emotions and his remix is perfectly that! the subtle journey between the energy of techno and the depth of its basslines.
What we love about Paul is the endless search to make his machines talk!l the warmth of his sounds, his perfect groove make his remix a real crush.
To close this fabulous EP, we present you this new duo William Masson and Matt Sugar R make us discover their universe combining techno and house. a very promising collaboration